Bloom is the new series of lamps by Kartell, one of the most important companies in the field of lighting and furniture. In this case, the company decided to create something completely new and avant-garde, but at the same time that recalled craftsmanship, details and dexterity. Read on if you are looking for a unique piece to place in your home or in your contract setting.
Speaking briefly about the company, Kartell is the famous brand that creates modern design furnishing accessories with always high-quality materials. Founded in 1949, it is one of the symbolic companies of Made in Italy design. A success story told through an incredible series of products that have become icons of contemporary design, such as Bloom.
Bloom aesthetics
Bloom is a series of elegant and cheerful lamps, suitable for any context, characterized by sparkling flowers, pure and precious like crystal, which will create a delicate spring bouquet in your rooms, illuminating and decorating your spaces. In fact, these lamps are eccentric and sparkling, they capture attention and are not trivial.
As a final result we therefore have stylistically unique and handcrafted lamps, which will make your setting modern and original. The collection is in fact multifunctional, easy to use and of great aesthetic design. Color, irony, play of the senses, transparencies, different shapes, in the Bloom series, there is all this and much more, and it is definitely a series not to be missed.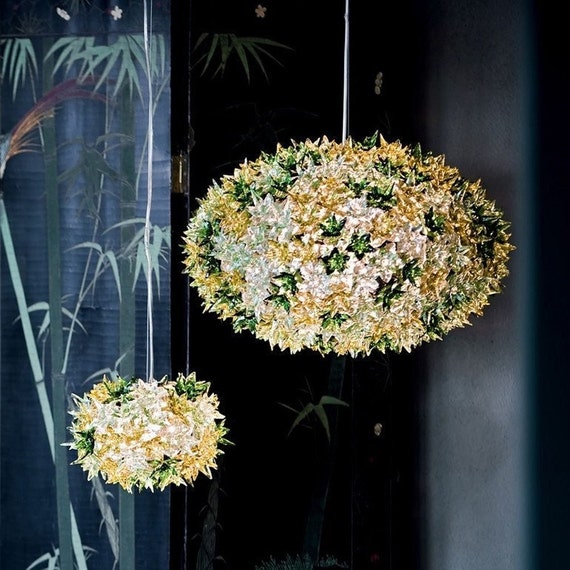 Kartell Bloom specifics
The bloom family was initially made up of a suspension series available in white, black, black-pink and crystal but a new elliptical shape was also recently launched in two different sizes and with new functions. We have Bloom S1 and S2 which are elliptical pendant lamps, in two different sizes and Bloom CW2 which works as a wall or ceiling lamp. The latter function is also available in a larger format (Bloom C1). The available colors are opaque white, crystal, lavender and mint.
Bloom is therefore a series of suspension, ceiling and wall lamps, made up of a tubular polycarbonate skeleton, entirely covered by a structure made up of small double corolla flowers. Consequently, this industrially produced series presents the shapes and stylistic complexity of unique pieces, as if they were handmade by craftsmen.
Specifically, the body is composed of a series of bulbs positioned on the internal skeleton and these spread the light beam through the petals, refracting on their faceted surfaces and releasing a thousand reflections. In fact, the lighting that these lamps create is soft and delicate, there is no direct beam of light and this helps to create a harmonious setting.
Don't miss the Bloom series, come and discover them on our Diffusione Luce website!
Written by Alice Pruccoli