Gae Aulenti is a creation of elements of great design, transforming elements for everyday use into real works such as Giova lamp, Parola but also Table with wheels and the Tour table.
In fact, the glass-light composition has proved to be a winning idea, because these objects have not only reached the status of icons, but are still best sellers in the FontanaArte catalog.
Giova
More specifically, Giova is a lamp that actually also wants to be a flower vase, and it is the project that represented Gae Aulenti's debut in the field of lighting. Gae Aulenti is an Italian designer and architect who collaborated with the great company Fontana Arte and with whom she created this splendid object.
In fact, Giova is a non-dimmable table lamp with diffused light, ideal for making the most of a surface and for receiving the right degree of demand.
Giova specifics 
Giova is made up of a chromed or golden metal base on which a transparent blown glass globe is positioned, which includes the internal sphere in glossy white blown glass. Above, we placed a fluffy blown glass cup, which has a rough, semi-opaque or translucent surface made up of bubbles. The latter were produced by introducing a substance into the melt that produce the development of gas bubbles.
Precisely for these characteristics Giova is considered a hybrid between a flower vase and a lamp and is available in two sizes. We can therefore say that the two colors of the metal base, chrome or gold, give two different characters to Giova. The most neutral and discreet chrome, the most luxurious and visible gold. In this way it is ideal in different contexts, thanks to its versatility.
Parola
The second lamp is Parola, also designed by Gae Aulenti together with Piero Castiglioni for Fontana Arte. Conceived in the 1980s, it is still considered today a lamp with a contemporary design, beautiful to look at and easy to use.
In this splendid lamp, with a refined design, you can see immediately the work and study behind it, since three different types and processes of glass coexist in a single object: blown opal in the adjustable lampshade, natural in the stem, natural crystal ground in the base. In fact, Parola represents a model of integration between craftsmanship and industry.
Parola is also available in both the table, floor, wall and pendant versions, thus adapting perfectly to any setting and context.
Parola versions
The latest and most exclusive model is certainly the limited edition of Parola, on the occasion of the 40th anniversary of its birth. This version is numbered, personalized and available in white. It is absolutely a collector's item not to be missed, of great design and elegance.
In the standard version, on the other hand, we find Parola, a dimmable diffused light table lamp, equipped with a borosilicate glass frame, a diffuser in glossy, paste-colored blown glass and a base in ground transparent glass.
The floor lamp, equipped with a dimmer, is also made on a base in transparent ground glass, a stem in borosilicate glass and a diffuser in blown glossy colored glass. Always available in white or amber.
The dimmable diffused light wall lamp is equipped with a diffuser in glossy blown glass colored in paste and a wall support in nickel-plated brass metal. This model, like the previous ones, is available in white and amber color. In both cases this lamp transmits elegance and design, adapting perfectly to both home and work contexts.
Lastly, we have the pendant version, characterized by a diffuser in glossy colored blown glass and a painted polycarbonate ceiling rose. Also in this case the colors in which it is available are white and amber.
The peculiarity of Parola, in all its versions, is that the opal is perforated in the upper part and this allows the light to come out in a decentralized way, so as to direct it where you prefer.
An even bigger model of Parola is Parolona, ​​always available in the table, floor, suspension and wall series.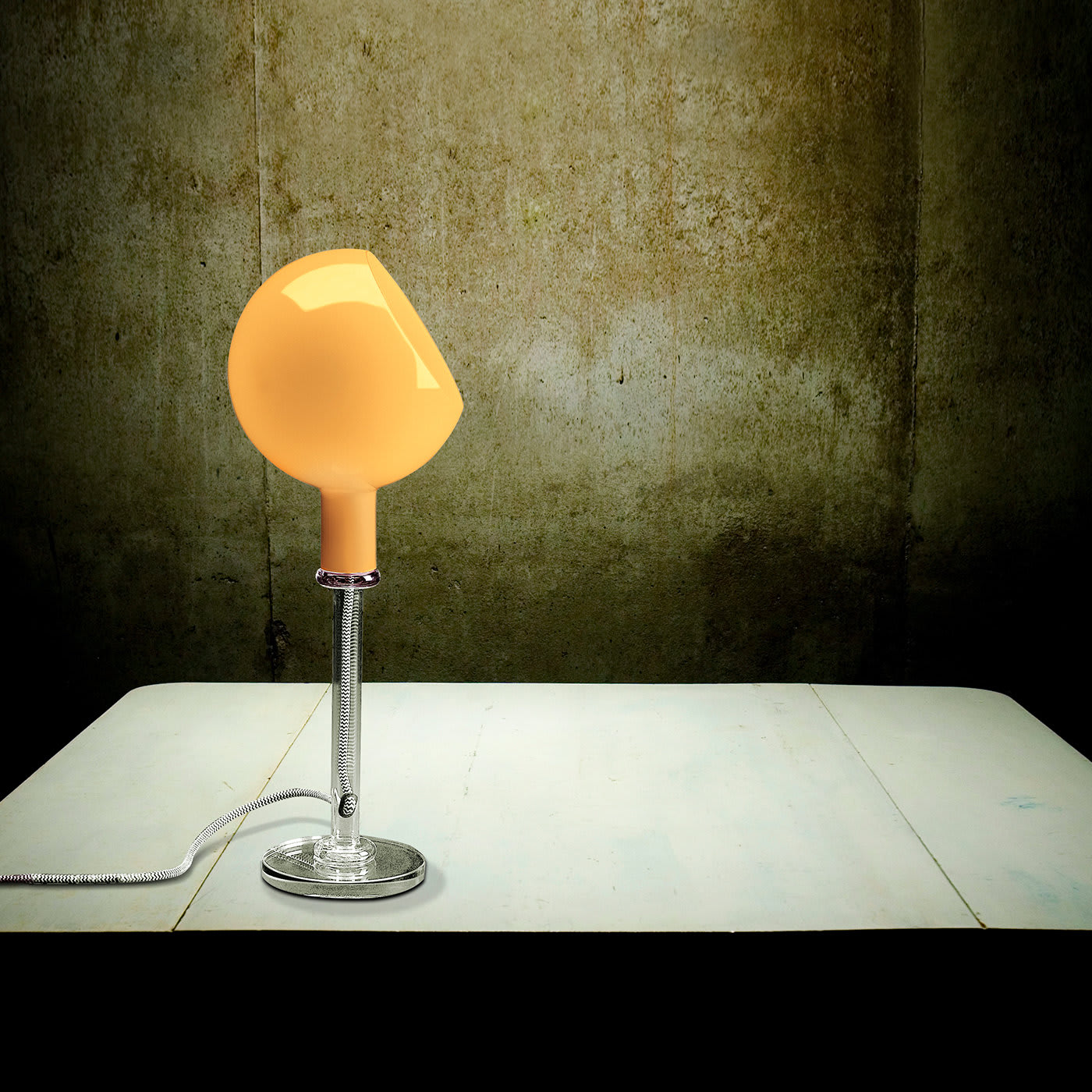 Table with wheels
The third element is the Table with Wheels, also made by Gae Aulenti for Fontana Arte, inspired by an industrial trolley used in the company's headquarters for transporting glass. In this case Gae Aulenti not only gave way to her creativity and ingenuity, but was also able to rework the tools of daily use and transform them.
Table with wheels specifics 
Specifically in the Table with Wheels, the wooden top of the industrial trolley is replaced with a thick sheet of ground glass, a symbol of the company's production history, to which the free-moving industrial wheels are fixed. In this way, the replacement of a simple element has transformed the nature of the object and its intended use.
The latest version was made on the occasion of the 40th anniversary of his birth, available in a limited, numbered and personalized edition.
The other versions instead of Table with Wheels adapt perfectly to your spaces and your environments, since on the site you will find the Table with large, medium, small wheels, but also with XL and XXL wheels.
Tour
The last element is Tour, a table designed by Gae Aulenti for Fontana Arte. Tour represents the successor of the Table with Wheels. In fact, Tour is also equipped with wheels, in this case of a bicycle, these are 4 pivoting wheels covered in rubber. The top on which it rests is in ground float glass.
Tour is therefore not just a table but it is a real piece of furniture, with a refined and extravagant design that will embellish your rooms, enhancing them.
What are you waiting for? Let's take a look on our website about Gae Aulenti iconics.
Written by Alice Pruccoli