TAKE ADVANTAGE of welcome code |

VOUCHER : WELCOME
On sale!
Reduced price
New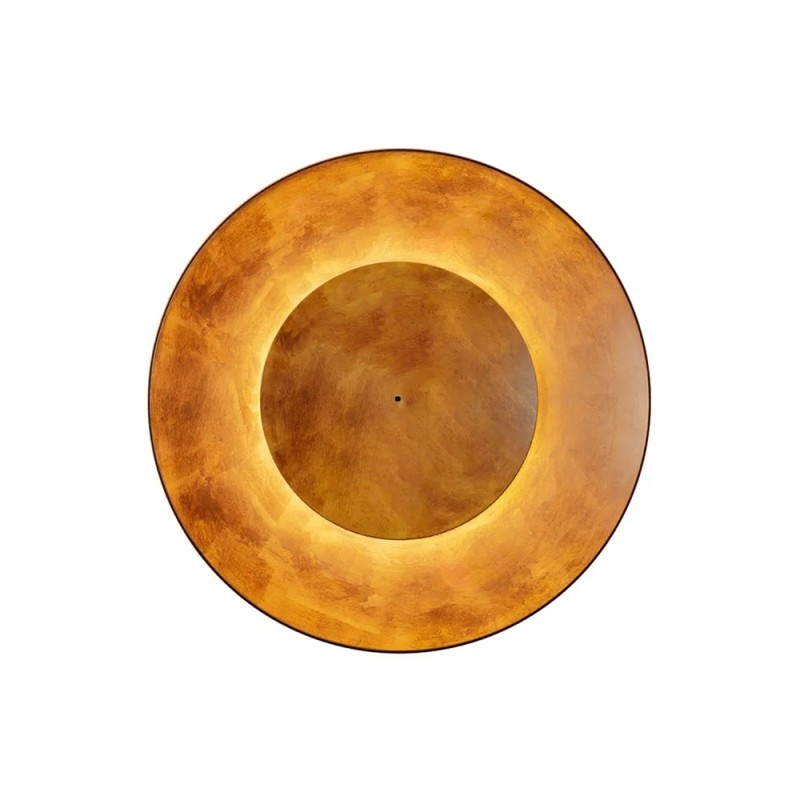 Fontana Arte Lunaire wall ceiling led lamp
Lunaire, wall/ceiling lamp for interior with integrated LED. Adjustable light via cap on the reflector. Rear body in polyethylene. Metal reflector and cap. Available in six colors White, White/Black, Gold, Gold/Black, Copper or Copper/Black.
Product Information:
Lunaire is a stunning circular design lamp that recalls the natural light of an eclipse. The French designer Ferréol Babin created Lunaire in 2013, representing with this lamp innovation and technique as well as modern elegance. Through a simple manual gesture you can adjust the light emission. Lunaire is made up of two discs that communicate with each other: a large concave-shaped aluminum reflector is joined to a smaller, central disc. The latter with the light source inside will produce a different luminous effect depending on how it is positioned with respect to the larger circle. The light will be rear diffusing if the small disc is closed or it will be frontal and reflected on the diffuser when the small disc is open. A front pin placed on the small "cover" disc will help you to easily position it towards the inside or outside, to be able to enjoy a different warm light brightness (3000K) at all times. The 75 cm diameter of Lunaire with its clean and essential circle shape makes the lamp a precious object of scenic and modern design, suitable for both residential and contract environments to enrich indoor areas through the lightness of a gesture.
Available in six colors White, White/Black, Gold, Gold/Black, Copper or Copper/Black.
Material: Metal
Voltage: 220-240 V
Source: 28.6W LEDs
Color temperature: 3000K
Luminous flux: 3650 lm
Light emission: Diffused and Reflected
Integrated LED
NOT dimmable
For indoor: IP20
Dimensions: Ø 75 cm
Available versions
Color:
Copper -
White -
White / Black -
Black / Gold -
Gold -
Black / Cooper -
Data sheet
mpn

F424665370RMLE

Reference

F424665370RMLE

Input voltage

220/240 V 50/60 Hz

Degree of protection

IP20

Material

Metal

Light source

LED

Adjustable power

Dimmable

Watt power

28,6 W

Number of light sources

1

Complete with bulb

No bulb

Insulation class

Insulation class II

Color rendering index

CRI Greater than 80

Light Emission

Diffused and Reflected

Complete with LED

Integrated
Be the first to ask a question about this product!
Please note:
The products are 100% original from the factory. You can easily order your product and choose whether to return it within the next 30 days
Security policy
128 bit SSL certified website
Delivery policy
Fast shipping to any city
Return policy
Free returns up to 30 days
Review
99% of customers are satisfied
Trustpilot verified reviews