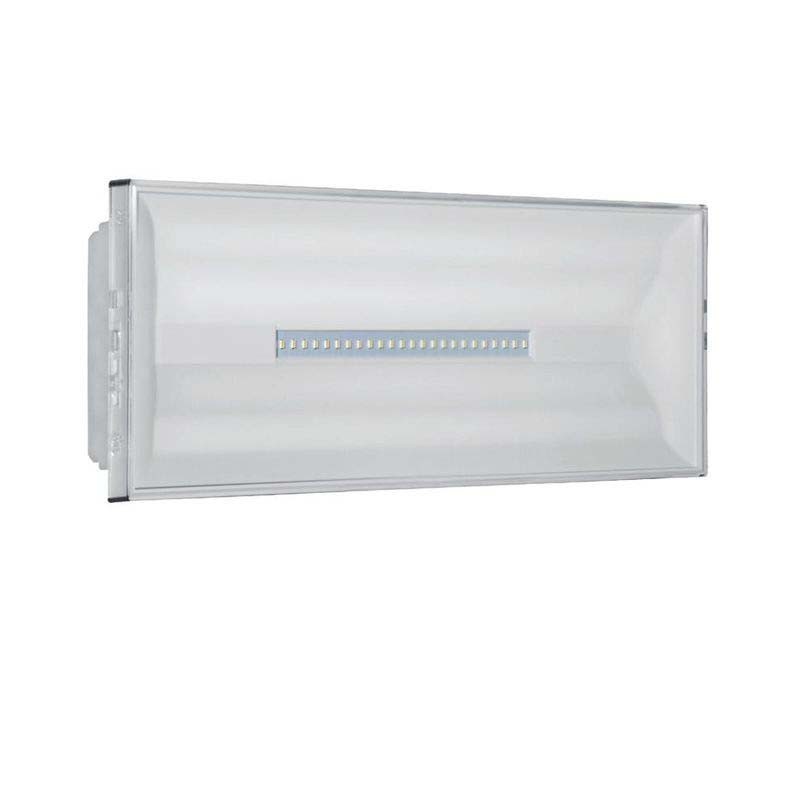  
Cooper-Eaton Emergency Lamp LED 11W 150lm
NexiLite is the new range of LED autonomous devices for lighting and safety signal characterized by a simple, modern design, suitable for any architectural context.
Product Information:
Available with luminous flux of 100, 150 and 250lm is comparable to fluorescent fixtures, respectively, 8, 11 and 24W, the wide range of accessories allows the installation to wall, ceiling, wall and ceiling recessed indoor and outdoor environments, thanks the IP65 kit.
The quality of raw materials, high technology electronic circuitry, together with the latest generation light sources make it one unit of its kind for performance and reliability.
NexiLite is available in non-permanent SE mode.
For signaling security, NexiLite is equipped with a series of single sided and double sided pictograms accordance with International Standard ISO7010, with visibility distance of
20 and 30m (EN1838). - TO BE ORDERED SEPARATELY
The pictograms monofacciali NexiLite differ from those commonly used as adhesives are placed between the reflector and the diffuser unit,
They are free of adhesive and can be repositioned as required without the formation of bubbles.
Technical data:
Complies with European standard EN60598-2-22
The latest generation LEDs with high ratio lm / w
Luminous flux of 150lm equivalent to 11W
Autonomy of 1
Full charge in 12 hours for models from 1h
Dimensions: 290x110x40mm

Suggested uses
Schools, offices, healthcare, government, businesses, hotels, restaurants, cinemas.
Illumination of escape routes and open areas.
indoor and outdoor use with IP65 kit (TO BE ORDERED SEPARATELY).
Safety signaling according EN1838.
Please note:
The products are 100% original from the factory. You can easily order your product and choose whether to return it within the next 30 days
Security policy
128 bit SSL certified website
Delivery policy
Fast shipping to any city
Return policy
Free returns up to 30 days
Review
99% of customers are satisfied
Reference: NEXI-RB
Brand: Cooper Eaton
Recessed wall box for nexi 100-150-250-400 (burglary 277x100mm)
Price
$2.27
Regular price
$3.50
 Immediate shipping
Reference: NEXI-FC
Brand: Cooper Eaton
Recessed wall box plasterboard for nexi 100-150-250-400 (burglary 277x100mm)
Price
$10.50
Regular price
$16.15
 Immediate shipping
Reference: NEXI-IP
Brand: Cooper Eaton
P65 waterproof box for nexi ceiling lamp 100-150-250-400 in masonry plastic material
Price
$18.19
Regular price
$27.98
 Immediate shipping
Trustpilot verified reviews