If you are looking for lamps with a playful and extravagant design to furnish your spaces, with the Zen and Iota lamps by Logica, you will be on the safe side!
Logica is an Italian lighting brand, which aims to create quality and long-lasting objects. In fact, their products are functional, simple and minimal, so as to eliminate all that is superfluous.
In this regard, Zen and Iota are two extraordinary examples.
Zen, Logic
Zen is a perfect table lamp to illuminate bars, restaurants, gardens, terraces but also to give a touch of design and elegance to your home. Its peculiarity is that it recharges via wireless, which is why it is very simple and practical to use. It also adapts perfectly to any context, both indoors and outdoors. Its line is essential and geometric and you can choose between a powder coating or chrome colors such as anthracite, white, sand, chrome, gold, copper and space gray.
Iota, Logic
Iota is a lamp with a truly unique and particular style. In fact, it consists of a half sphere that moves along a stem, in this way the light will always be adequate.
Furthermore, Iota can be placed, hung, raised or lowered, creating situations of more or less intense light, adapting perfectly to any context.
Would you have ever thought that they would be able to invent a lamp to hang like a dress ?! It is something brilliant!
Thanks to its versatility it can transform itself into a new object every time. In fact, its distinctive element is the game, as it conveys lightness and extravagance.
You will find it available in eight brilliant colors such as anthracite, white, black, sand, ruby ​​red, sage green and ocean blue colors, and corten.
This lamp by Logica is also rechargeable and thanks to its characteristics and the materials with which it was made, it is a perfect lamp both in an outdoor space such as the home garden or on the terrace but also to furnish a study or a bar.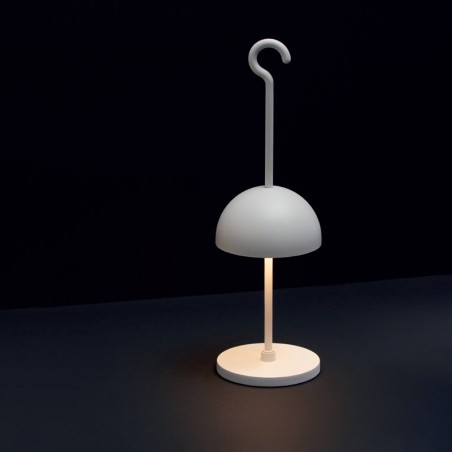 Furniture and lighting play a fundamental role in the enhancement of a space, external or internal. This is why it is important to find the right elements, but with Zen and Iota you can be on the safe side.
If you want to know more and discover these two splendid lamps in their colors, visit our website!
Written by Alice Pruccoli