Elio Martinelli was an italian lighting designer, acclaimed all over the world for his ideas and creations, who decided in 1950 in Lucca to found his own brand: Martinelli Luce.
The goal of this brand is to produce lighting for both domestic and business setting, creating lamps with an essential but original design, often inspired by geometric shapes and nature.
The Serpente lamp he created, is a perfect example of his passion and his creativity. It is available as a table and floor lamp and thanks to its lines and techniques, it conveys a great sense of innovation.
Despite this, it never betrays that sense of belonging towards an era so important for the affirmation of Italian design in the world.
Elio Martinelli took inspiration from the creation of the Serpente lamp, observing the incredible shapes and movements of this animal, from which it took its name. In fact, as you can see, this lamp reminds of a snake with its head raised and its neck arched.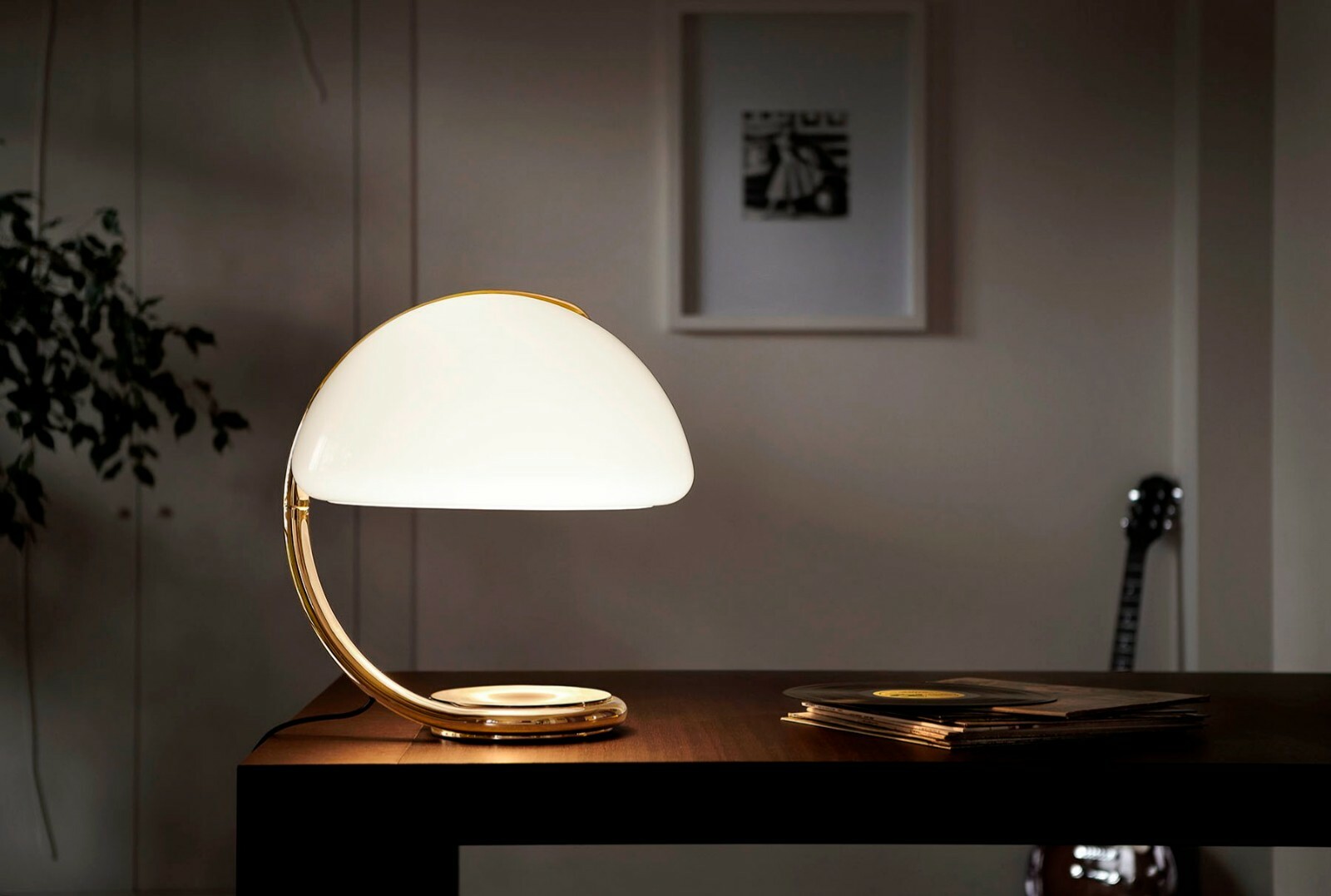 Serpente table lamp
For what concern the technical data, the Serpente table lamp is characterized by a diffused and enveloping light. It is equipped with a swivel arm and a methacrylate diffuser, thus making it perfect for multiple situations and setting. It is also available in two colors: white painted and gold, in a limited edition.
To celebrate the 50th anniversary of this lamp, it was decided to release a version of a few pieces, signed and numbered.
The Serpente lamp in the gold color is an exclusive element not to be missed, because it will be able to embellish the setting, creating a very elegant and refined atmosphere.
Serpente floor lamp
The Serpente floor lamp also has a swivel arm, a methacrylate diffuser and is available in two colors: opal white and in the limited edition gold.
Both Serpente lamps, in the floor and table model, are a symbol of essentiality and dynamism. Because even today, after 50 years, they are one of the iconic lamps in the Martinelli catalog. Thanks to the timeless design and the innovative techniques used, as a support rotation system, these two models have been taken as a reference point, for numerous subsequent products to insert a catalog.
Don't miss the Serpente lamp in its various models and colors! You will find everything, as always, on our online shop!
Written by Alice Pruccoli