Thanks to the skills and expertise of Tommaso Cimini, who was able to mix beauty and elegance, this Daphine lamp is flexible and suitable for different setting. In fact, it's not a coincidence that this lamp has been chosen to be exhibited in some modern art and design museums around the world.
Its versatility and its use in various contexts is also given by the different models that you can find, including: Daphine, the floor Daphine, Daphine cylinder, in the wall-mounted Daphine, Daphinette, Dalphine cloe and portable Daphinette.
You will find also different colors of this lamp, in this way it will be albe to reflect and value your setting: soft touch black, matt red, matt white, matt yellow, brushed nickel and metallic bronze. Choose the one that best suits your needs.
Although the models of Daphine lamp are different from each other, the elegance remain unchanged, in this way there will be always a connection between the various productions. In fact, every lamp is characterized by an articulated arm, an adjustable diffuser mounted on a transformer, and the possibility of choosing the lamp in halogen or LED version. The LED version lamp is the best in terms of use, because it lasts longer and the consumes are lower. Thanks to the CRI97 + technology it is equipped with, you will also have the highest color rendering ever achieved, making it the winning solution.
Limited edition Daphine
Of particular interest we also find the limited edition Daphine, created to celebrate the 45th anniversary of its birth. It is a unique and refined model, available especially for collectors, characterized by the same finish and the same color as the one created for the 15th anniversary, but will be even more personalized thanks to a celebratory aluminum plaque.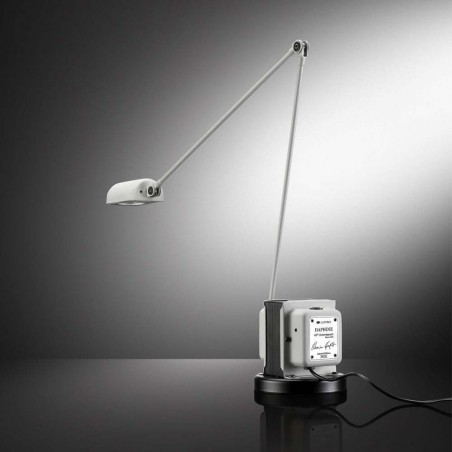 Work lamp Daphine
Among the various models, the most standard one is the Daphine, perfect as a table lamp, thanks to its elegance and refinement, as well as the Daphine Chloe. Similar in use but less bulky, you will find the Daphine cylinder, excellent as a work lamp because it can be installed directly on the table.
Floor lamp Daphine
On the other hand, the floor lamp Daphine, is perfect for large rooms that require brightness. In fact, thanks to its LED version you will have the possibility to obtain a higher light output.
In the wall-mounted Daphine
In the wall-mounted Daphine you will instead have a metal luminaire to be installed on the wall, where the arm can be 35 or 20 cm long depending on the need.
Daphinette
The latest model then, is the Daphinette, the smaller version of this beautiful design lamp, which is launched and also made available in a new brand line, portable Daphinette. It is a battery-powered rechargeable lamp, equipped with wireless technology. Available in soft touch black, matt white, brushed nickel and metallic bronze.
Both are ideal for smaller rooms but where brightness is still required.
Details always make the difference, and thanks to their refined design, these splendid lamps are perfect both in a domestic and business ambience.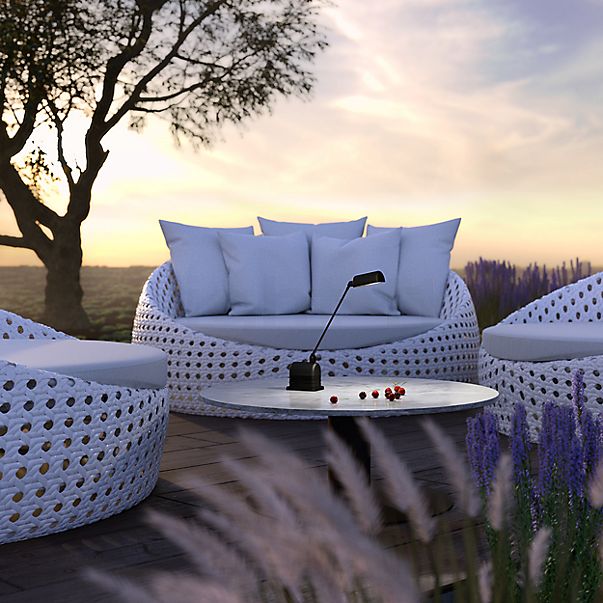 Don't miss the Daphine lamp in its various models and colors! You will find everything, as always, on our online shop!
Written by Alice Pruccoli