The garden as well as the terrace are elements that enhance your home, give it light, and help to create a pleasant and welcoming setting in the same way in a restaurant or a bar.
However, in order for all of this to happen, it is essential to furnish these spaces in the best possible way. Don't forget that as during the day, outdoor spaces are also extremely important in the evening.
The warm season is coming and with it also the pleasant temperatures. So, dinners in the garden and aperitifs on the terrace are back, in the company of family and friends.
There is therefore an element that you need to take into consideration more than the others: that is lighting. In fact, there will be no dinner or any aperitif in the dark.
And this is where these beautiful luminous string lights garland come into play, which are perfect for enhancing and creating that slightly vintage and slightly bohemian setting for your outdoor space. In fact they are also perfect in winter, as a Christmas decoration.
Why choose them?
Because thanks to Tuya smart App you can manage your lights via Alexa and google Assistant. So imagine the convenience of connecting the string light to your home Wi-Fi, just using your phone, and managing the lighting with a click.
Fantastic isn't it ?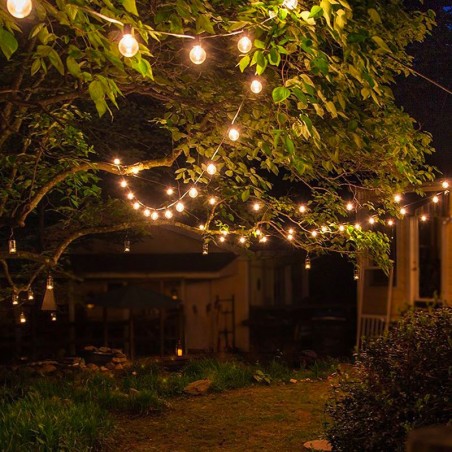 String light garland specifics
The characteristics that make this string ideal are many and now we will see them together. First of all, the length of 5 meters in which it is available, will allow you not to neglect any corner, thanks above all to the 10 LED bulbs of which it is composed. The wide beam angle of 240 ° also provides excellent light distribution, creating a pleasant glow and preventing glare.
If that is not enough, you will have the possibility to connect multiple strings light garland using the included watertight connectors. For this reason, whether it is a smaller or larger space, you will have no difficulty in lighting it.
Secondly, you will have the opportunity to manage the coloring of the lamps from warm white to cold white using a button on the power supply, or through the Tuya smart App, which can be managed via Alexa and Google Assistant.
This is a very important innovation in the world of lighting, because it improves the practicality and comfort of managing the lights in outdoor spaces.
This string light garland is therefore equipped with the latest technologies, to support you and help you manage your home and your rooms. The black color is also extremely versatile and will allow you to combine it with different styles.
Quality is then the principle with which these string light garland were made, in fact thanks to IP65 it is possible to use them without problems outdoors, as they are resistant to rain and other atmospheric agents. The lamps are then made of PMMA material, and therefore resistant to breakage and UV rays.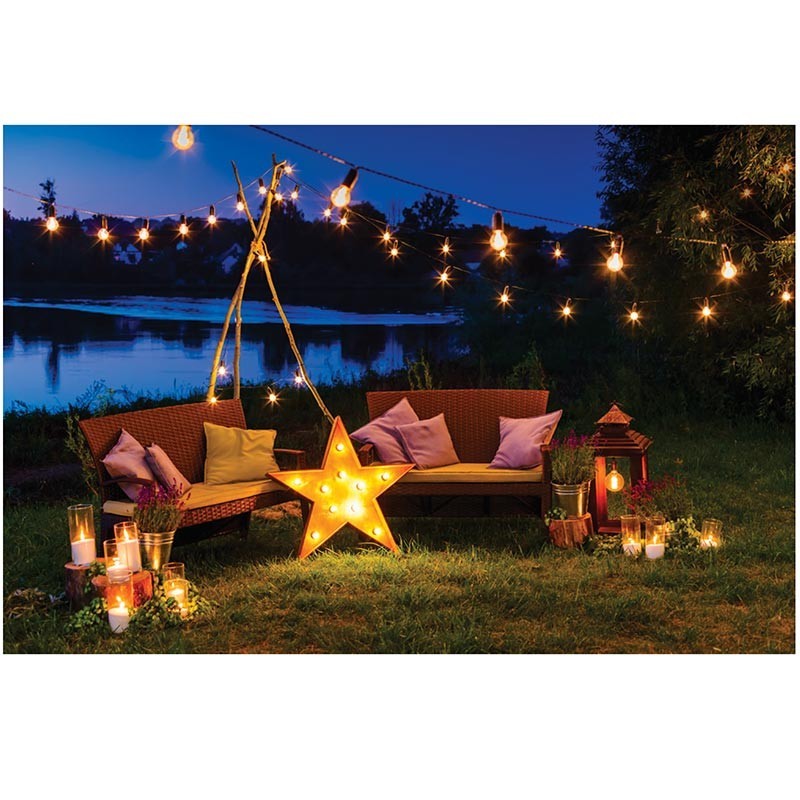 In short, to illuminate your spaces with these splendid string lights you will only have advantages, they contribute to creating a welcoming setting, they are powerful and efficient. What are you waiting for?
You can find them on our Diffusione Luce shop.
Written by Alice Pruccoli