Rever 1.0 is a lamp with an industrial and modern style, a perfect mix to transform a lighting object into a beautiful element linked with the other..
In fact, Rever is a particular and elegant collection of lamps, designed by the designer Marcello Ziliani for Wever & Ducrè. The story of Wever & Ducré begins in Belgium in the early 1980s, when a group of young entrepreneurs decided to found a lighting company. Since then, the company has been synonymous with lighting of great aesthetic value, with an attractive design, high quality and cutting-edge, and Rever 1.0 is a perfect example of this.
The goal behind this collection was in fact to create a lamp that would adapt to a fine and refined setting. To make this series even more versatile, we thought of two Rever models, one suspension and one table.
Rever 1.0 table lamp
This beautiful and refined table lamp is characterized by a LED source connected directly to the central body, a single piece of injection-molded polycarbonate. The laser technology used in its creation is in fact complex and cutting-edge and demonstrates the commitment and creativity of Marcello Ziliani.
To recharge it then it is very simple, since it is equipped with a magnetic base where the USB rechargeable battery is installed. The battery is then available in two different versions: a flat metal plate with magnetic fixing, also suitable to be placed under a tablecloth, or a single metal charging base with magnetic fixing.
Once recharged via the battery, it is able to illuminate for 8 hours.
The materials are also excellent and top quality, thanks to the choice of zinc alloy and PMMA. This is why it is robust, resistant to temperatures and scratches.
The colors in which it is available are: black, white and bronze.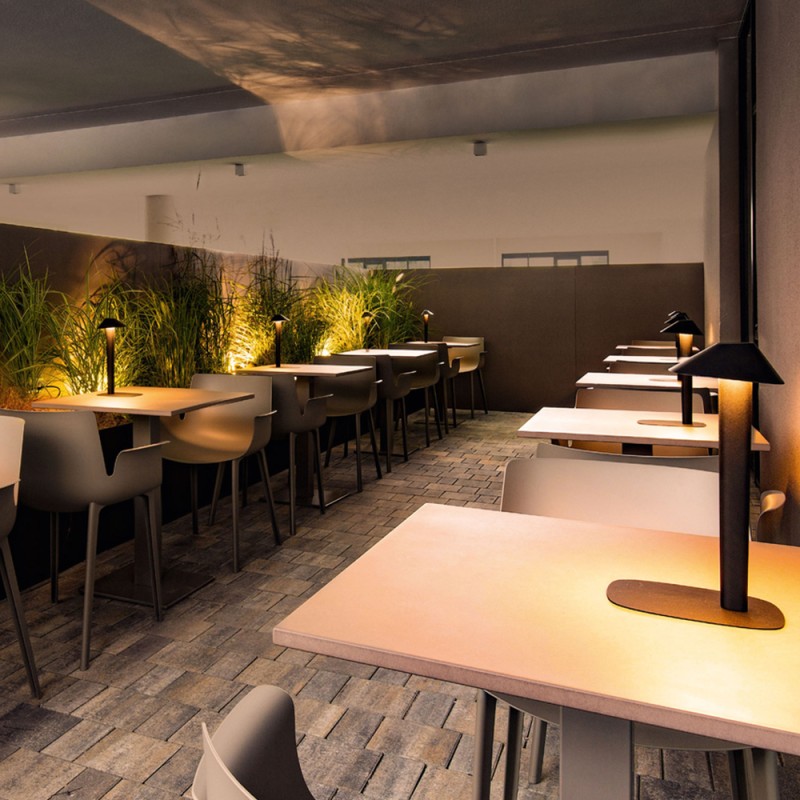 Rever 1.0 suspension lamp
The Rever 1.0 pendant lamp follows the style and design of its sister, thanks to a compact body and soft and elegant lines. This allows a correct diffusion of light, making it ideal above a dining table or in a room. At the same time it is perfect for contract areas or restaurants.
Therefore, thanks to the style and design chosen, it is a lamp that moves perfectly to different contexts, creating continuity with the surrounding setting. The connection with the ceiling takes place via a thin and sober black cable, so as to create continuity with the lamp.
It is then available in multiple colors, making it playful and lively: amber, green, gray, antique pink and white.
Let's have a look of these beautiful lamps on our Diffusione Luce website!
Written by Alice Pruccoli