Colorful, playful and summery, here is the new Poldina Lido by Casa Zafferano, which will illuminate and decore your indoor and outdoor spaces.
Zafferano has decided to emphasize the originality and versatility of its most iconic portable lamp, creating Poldina Lido, a special edition that combines the practicality of wireless lights with the value of made in Italy.
In fact, this company puts Italian creativity and design first when designing and manufacturing lamps. The goal is to create them not only to be functional and decorative, but also to give life to dreams and emotions related to the furnishing of any setting.
Specifications Poldina Lido
Going into the specifics, the characteristics of this LED poldina have been studied in detail, to make it even more efficient. In fact, this LED table lamp is functional and traditional but at the same time avant-garde and innovative. All this thanks to the "touch" controls, the possibility to choose between 3 brightnesses, from a cooler to a warmer one, up to the dimming memory function. In this way, each time it is switched on, the light intensity will not be maximum, but will correspond to that previously set.
On an aesthetic level, Poldina Lido is characterized by a white ceramic cover painted by hand in different variants: with green, yellow, blue or red striped decoration and with a cheerful stylized drawing of blue fish. The colors and the style are very reminiscent of the world of the beaches as well as the spirit, playful and light.
The design is then clean and elegant, not to mention that thanks to its practicality, it can be placed anywhere, indoors or outdoors, representing a dynamic alternative to illuminate any activity and any time of day.
Poldina is perfect at home, in the garden, in a bar, in an exhibition and will follow you to illuminate your important moments.
In fact, speaking of safety, Poldina has passed a new IP65 protection index, so that you can position it in complete safety both indoors and outdoors.
Poldina Lido is a really simple and practical portable and rechargeable battery lamp, thanks to the contact charging base. Once at 100% then, it has an autonomy of about 12 hours.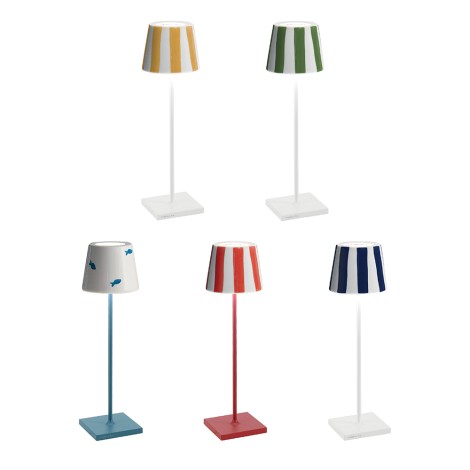 Poldina Micro
Poldina Micro is the new version of this splendid rechargeable table lamp. It is equipped with all the external and internal features of its bigger sister, such as a contact charging base, a painted aluminum body, a polycarbonate diffuser and an LED light source.
It is switched on and off with a touch button, it is possible to adjust the color temperature of the light as well as the intensity of the luminous flux. At the same time it has a dimming memory function (at each start-up, the light intensity will correspond to the one previously set) and an IP65 protection degree that makes it suitable for both indoor and outdoor use. Battery life is guaranteed for more than 9 hours.
Its advantage is also that being smaller, it is even more easily transportable and versatile, adapting to a context and setting, not to mention that it is available in many colors.
Therefore, if its beach style had not already conquered you, with its specifics characteristics this Poldina can only make you fall in love.
Written by Alice Pruccoli