Having an outdoor space is certainly an additional element in your home or contract area, but it is also very important to furnish and illuminate it correctly.
In fact, it is necessary to enhance the spaces, furnish them and lighting plays a fundamental role from this point of view. Below we offer you various outdoor lighting options, so that you can find the right inspiration for your setting, whether it is a garden, a terrace or a contract element.
Marks step spotlight, Lampo Lighting
This marks step spotlight is made by Lampo, a company that manages to stand out for its ability and innovation, thanks to the use of modern technologies and the high quality of its products. In particular, the recessed LED spotlights for outdoors are walkable and drive-over step marks made of corrosion-resistant anodized aluminum. They are perfect if you are looking for quality and long-lasting products.
Thanks to its power, its 4000K natural color tone and IP67 protection degree, they are ideal for lighting and furnishing an outdoor space. The use can then be varied, it can be installed along paths, on pillars or on walls. It can also be either concreted into a pavement or buried in the garden.
Line 1.0 recessed spotlights
The Line 1.0 recessed spotlights from the Luce & Light company are outdoor path markers, available in two sizes and in the version for recessing in masonry or plasterboard walls.
They are therefore perfect as recessed lights for corridors, steps and outdoor stairs and are made in satin nickel, matt white and cor-ten colors, in this way they will surely match your setting.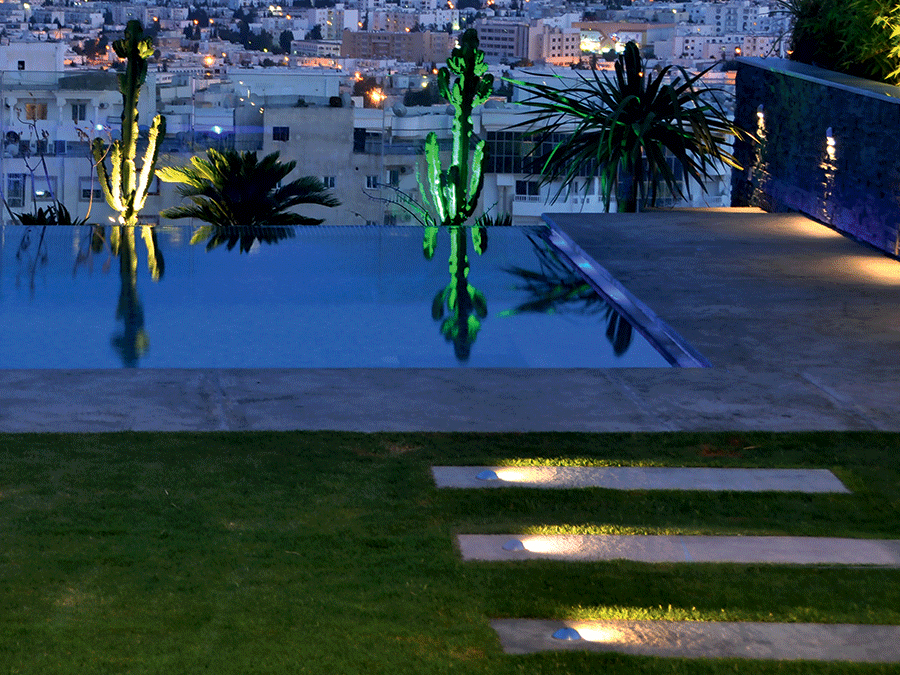 Duralamp lamp
The Duralamp lamp is extravagant, playful and lively, because it takes on 14 different color sequences. It is perfect for lighting swimming pools, fountains and outdoor applications.
Among other things, it is also extremely easy and practical to use, the switching on and off can be activated by a simple switch or by remote control and receiver. To adjust the colors, on the other hand, simply press the on and off button in quick succession, thus allowing the sequence to be changed.
Entering more specifically about this lamp, it is equipped with PAR56 LED lights, a glass body and is made with materials resistant to chlorine and pool additives. In fact, it is designed to remain submerged in water for long periods of time, thanks to its IP68 protection index.
Targetti Neptune
Targetti Neptune is a recessed and submersible LED lamp, it is equipped with a stainless steel body, a polished brushed steel ring and a transparent tempered safety glass. All metal elements are made of 316L steel, whose resistance to chemical agents and salt makes Neptune suitable for both fresh and sea water installation.
The lighthouse also contains different colors including red, green and blue, which can be switched on separately or in combination to create striking light effects.
Finally, it is available in 2 different sizes, with the possibility of mounting both low voltage halogen lamps and white LEDs and RGB LEDs.
Therefore, thanks to its lighting power and the resistance of its materials, Neptune is a perfect spotlight for swimming pools and tubs.
Bega spotlights
Bega is another recessed luminaire, ideal for swimming pools in the private and public sector. It is available in different sizes and powers, and is suitable for installation in synthetic, concrete, metal or film-coated tubs.
Being designed as a dive light, it is equipped with an IP68 protection index, while the materials are all in stainless steel.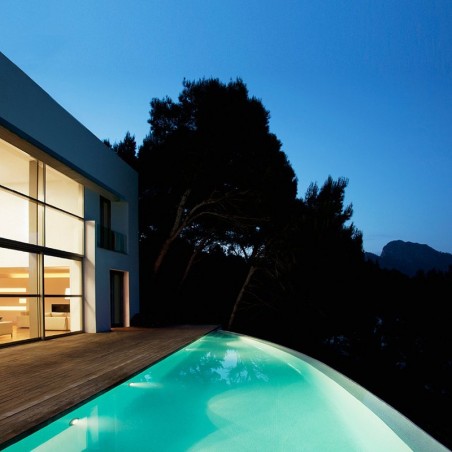 Come and discover more about these spotlights, you will find everything, as always, on our Diffusione Luce Webisite!
Written by Alice Pruccoli