The warm season is coming and you can finally go back to both organizing outdoor events and taking advantage of the outdoor areas of your home. Precisely for this reason it is essential to enhance your setting, and one of the most important aspects to take into consideration is lighting. In this article you will therefore find several ideas to illuminate but also to furnish gardens, rooftops, terraces and much more.
Sfera, Sovil
Sfera is a floor lamp made of resin, designed for the outdoors, but often also used in interior spaces. Thanks to the various sizes in which it is available, it adapts to any setting, giving it a touch of elegance and design. Its line is simple and essential, and thanks to its white color, it will be able to enhance and furnish green spaces in the best possible way, creating a beautiful contrast.
Cube floor lamp
Cubo is another best seller of the Slide collection, it is a floor lamp that thanks to its characteristics will be able to revive gardens and terraces, with color and liveliness. The shape of the Cube is then simple but of great effect, as well as the use of light, delicate and soft. For these reasons, Cube is one of those elements that cannot be missing if you have to organize an event or if you are choosing furniture for your outdoor.
Cucun Slide Design
Cucun is a large floor lamp, inspired by the simple and natural shapes of flowers, vegetables and bulbs. The particular polyethylene structure blends perfectly with the glass fibers and all this helps to create a truly unusual shape. Therefore, thanks to its characteristics, it is ideal for furnishing and lighting outdoor spaces such as gardens and terraces. It is also available with warm light (3000K) or cold light (4000K) LEDs.
Pivot, Slide Design
Pivot is a floor lamp with an elegant and contemporary style, available in different sizes. It comes from the perfect combination, between the conical shape of the base, dominated by the classic lampshade. Its distinctive element is then the arabesque texture in relief. If you love refinement and design, Pivot is the ideal lamp for you.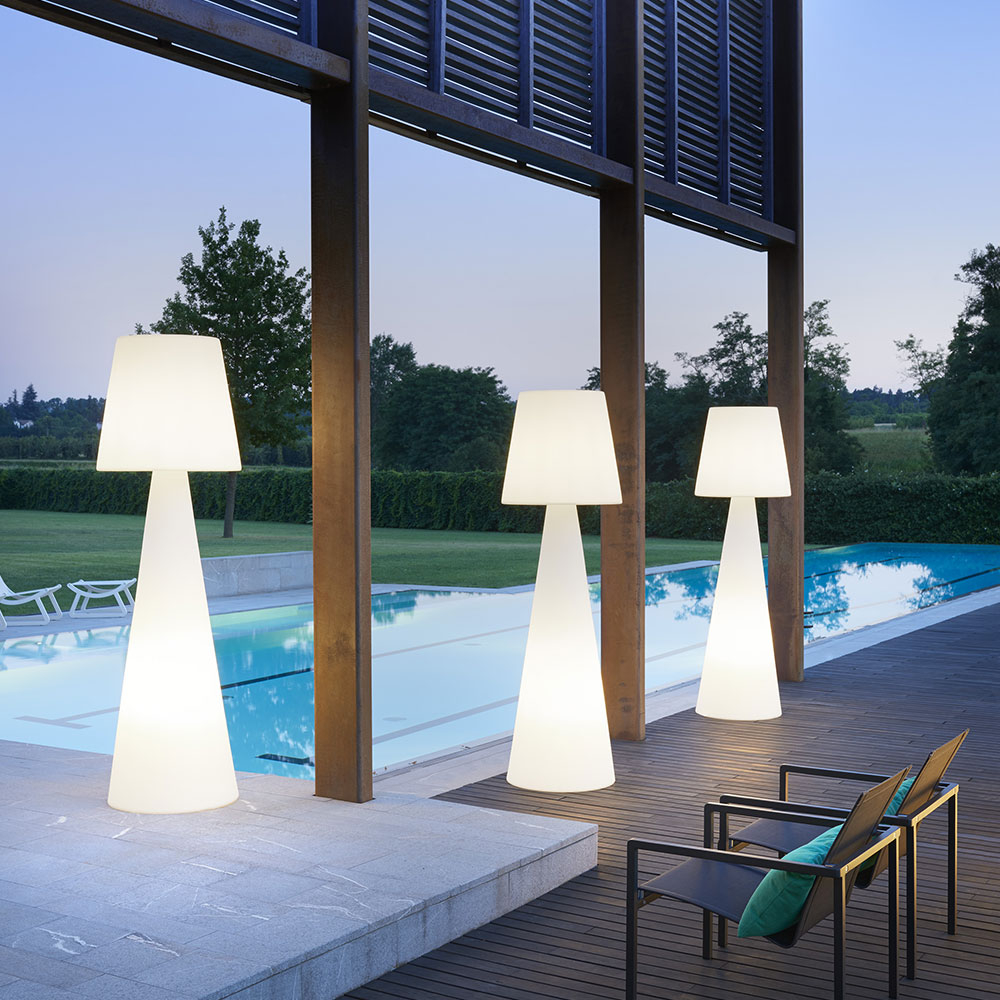 Ali Baba, Slide Designer
Ali Baba is a collection with a simple and linear design, ideal for minimalist outdoor settings. Its peculiarity is the lampshade: its shape is classic, but its entire surface is embellished with an Arabic texture. The elegant lampshade then also becomes a stool, in the standard version, while in the luminous one it is supported by stems of different materials and heights, so as to adapt to any space for contract or private homes.
Amore bench, Slide Design
The Amore bench marks the beginning of an incredible journey for Slide, because we have managed to transform a word into reality. Amore is able to enhance any setting, from restaurants to terraces to gardens, transmitting liveliness and play. It is available in many basic colors characterized by a slightly rough surface to the touch, but also in lacquered colors, with a smooth surface, offered in a matte or glossy finish.
WOW, Slide Design
Wow is a very special and unusual outdoor bench, thanks to its cheerful and impactful design. The first thing that then catches the eye is that Wow is a palindrome word, in fact by turning the bench upside down, you will pass from reading the word Wow to Mom. It is also available in different colors, adapting perfectly to different contexts.
Inout floor lamp, Metalarte
Inout floor lamp is produced by the Metalarte company and is an outdoor floor lamp with a modern design. It is perfect for adding a touch of decoration and lighting to any spaces, and is available in two different finishes, white and red. Thanks to its style, it is a model that fits perfectly in a garden or on a panoramic terrace.
Ambrogio table, Slide Design
Ambrogio is an ideal table for outdoor setting, such as terraces, gardens and restaurants. It is a unique and playful way to color any spaces, not to mention that it was created with particular attention to the planet. In fact, in its realization EcoAllene was used, made from 100% recycled material from the Tetrapack cartons. Ambrogio is therefore the perfect combination between a furnishing product, a support and a cheerful element.
If all these lighting and furnishing elements have intrigued you and you want to know more, check out our Diffusione Luce website!
Written by Alice Pruccoli