Home solar is a brand new floor lamp unique of its kind, as it is equipped with a solar panel that charges the battery in 6-8 hours. This will allow you not only to save energy and consequently consumption but also to reduce the environmental impact of your lighting systems!
Home solar 
This lamp is also perfect for both indoor and outdoor use thanks to the high degree of protection (IP54 and IP65), making it versatile and suitable for different contexts. Furthermore, being completely autonomous you will not need any home socket or bulky wires.
In fact, recharging is automatic thanks to the solar panel but that's not all because Home solar is also equipped with a twilight sensor, this means that when it gets dark there will be no need to find the switch. The lamp will turn on autonomously at dusk!
Alternatively, it also has a motion sensor that leads to the temporary lighting of the lamp when movement is detected.
Speaking instead of its specifications, the structure of the lamp is made of painted aluminum, which also makes it very elegant, light but at the same time captivating, while the diffuser is in transparent polycarbonate. The choice of colors are then 2: corten, warmer and welcoming and dark gray, more elegant and refined.
Zafferano Home Solar Terra has two fixing methods
Home solar has two fixing methods, the first is to fix the lamp on a concrete plinth with suitable bolts or screws. The second method instead consists in fixing the lamp on soft ground using a metal stake.
In this way you can personally choose what you need: whether it is a rigid flooring such as the driveway or the exterior of a room, whether it is a soft flooring such as a garden, or an external part of a room in which you want to create a welcoming and warm atmosphere.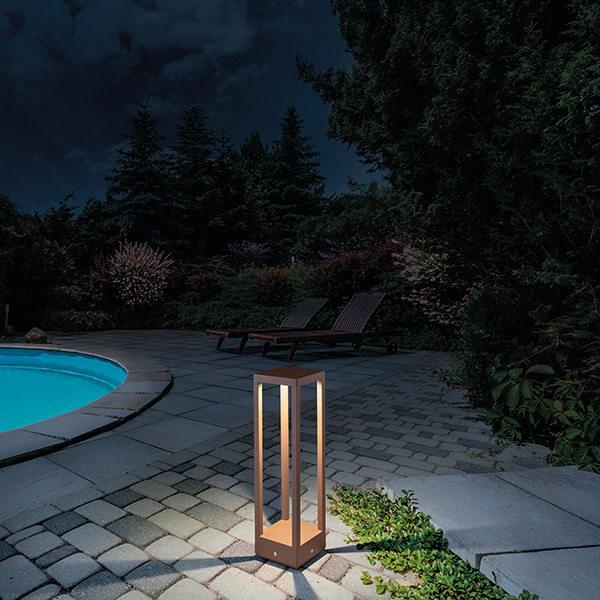 In fact, home solar is an excellent outdoor floor lamp, for splendid outdoor evenings and to illuminate outdoor passages, thanks to motion sensors. Home Solar is therefore an elegant eclectic lamp, an ideal solution for the lighting of indoor and outdoor spaces that is comfortable and practical.
Come and discover it on our Diffusione Luce website!
Written by Alice Pruccoli