Are you looking for an elegant lamp, that knows how to enhance your rooms? Flo lamps are what you need!
Where does the Flo series come from
The Flo series is a line born from the union of two brilliant companies, which put creativity and refinement in the first place in the realization of their works. In fact, Lumina is an Italian company that has been a leader in the sale of lighting products for over 40 years, while Foster + Partners is a British architecture and design studio founded in 1967 with headquarters in London.
The fusion of these two incredible European realities, with different ideas, could only lead to the birth of an extraordinary series of lighting lamps such as Flo.
"Our lamps are iconic, as are our ethics of and our craft. Using the latest production technologies we combine form and function to obtain a pure and simple result. For the well-being of our customers".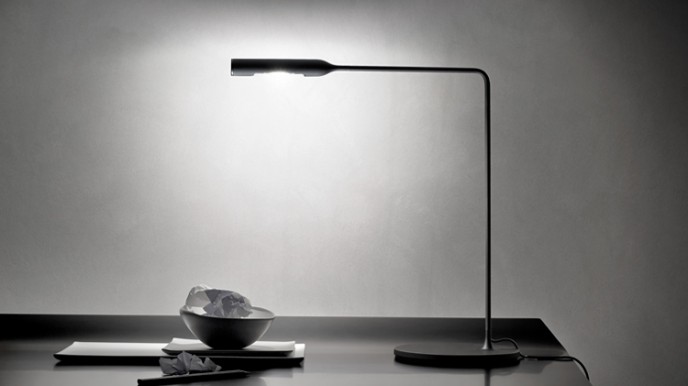 The Flo series
Let's go into more specifics now and understand better if this series can meet our needs.
Flo lamps are characterized by their minimalist design, by the advanced use of technology thanks to the dimmable LED lights and by the thin and sinuous lines. In fact, Flo was created to adapt to different locations and for this reason the Flo series is composed of: Table Flo, Wall Flo, Floor Flo, Bedside Flo, Table Flo with Clamp and Grommet Flo. To make this series even more versatile, you will find different colors: soft black, matt red, matt white, matt yellow, brushed nickel, metallic bronze and gunmetal.
You will find more variety, as you may have well understood, in the table lines, in this way based on the spaces you have, you can choose the one that suits you best. After all, practicality must come first.
In fact, we have the Flo table lamp, equipped with a circular aluminum base, the ones equipped with a clamp or grommet, especially the latter two ideal, for the most limited spaces and finally the smaller, but extremely bright, the Flo bedside lamp.
Flo specific
Flo's common denominator is the cold extruded head and lightweight body, balanced by an aluminum base. To make it more elegant, superfluous elements, such as cables and springs, have been eliminated, to obtain an even more delicate silhouette and also to respect the environment.
Another winning feature is the fact that the head can be rotated by 300 ° allowing you to illuminate precisely what you want in addition to the fact that the arm also rotates on the base by 120 °.
With Flo at your disposal, any setting will be valued as it deserves!
In short, Flo is a series created with commitment and study, the materials are all of quality, to ensure that it can last over time, thanks to the sinuous lines and its elegance, it is a line that remains young and never tires. In addition, the lightness of the structure and the high level of engineering mean that it can be moved with ease, illuminating, thanks to its large rotations, exactly what we want.
What are you waiting for? Come and discover the Flo series in all its versions and colors! You will find everything, as always, on our online shop.
Written by Alice Pruccoli