By now we know the Slide Design company well, which is brilliant, avant-garde and innovative. In this article in particular we will talk about the Ali Baba collection. It is in fact a series of lamps and elements with a simple and linear design, ideal for minimalist idoor and outdoor settings.
Their hallmark is undoubtedly the lampshade: its shape is in fact classic, but the whole surface is embellished with an Arabian texture.
But not only that, in some models the lampshade also becomes a stool, thus revisiting an element of lighting in a totally innovative way. In others, the lampshade is supported by stems of different materials and heights, so as to adapt to any indoor and outdoor space, for contract areas or private homes.
The Ali Baba Collection includes: Ali Baba Steel, Ali Baba Wood, Ali Baba Lanterna, Ali Baba Stool and Ali Baba Fiaccola.
Ali Baba Steel
Ali Baba Steel is an essential and elegant lamp, a modern and original reinterpretation of the traditional floor lamp. Made of recyclable polyethylene with the rotational molding system, Ali Baba is Made in Italy and is suitable for decorating any type of setting.
The galvanized metal base, available in different colors, meets the white lampshade characterized by arabesques in slight relief, creating a perfect mix of simplicity and refinement.
Ali Baba is available in different sizes, in this way it adapts perfectly to multiple contexts, both internal and external.
Ali Baba Lanterna
Ali Baba Lanterna is instead a colored suspension lamp that enriches the Ali Baba collection.
The arabesque motifs on the lampshade are always present, since they are the hallmark of the collection, but in this case you will also find them in the lower dome, which makes the polyethylene with which it is made even more luxurious.
Ali Baba Lanterna is ideal for bringing joy to an indoor setting, in fact the colors in which it is available are so many and all bright, as many as 9.
Ali Baba Wood
Similarly, Ali Baba Wood is a floor lamp that gives the room warmth and cosiness. It is proposed as a reinterpretation of the Ali Baba Steel lamp, but with a wooden stem, with a warmer taste and especially suitable for indoor settings.
The classic lampshade produced in polyethylene is flanked by a beech stem to give the product greater elegance and attention to detail.
Ali Baba Stool
The fourth element of the collection is Ali Baba Stool, an extremely linear stool embellished with refined and elegant decorations that refer to brocade fabrics from the Ancient East.
This feature makes it ideal for giving a touch of color and an oriental taste to contract and domestic settings. The design, flair and creativity behind this stool will win you over, not to mention that it is available in 13 colors, one more beautiful than the other.
Fiaccola Ali Baba
Fiaccola Ali Babais a floor lamp capable of giving a touch of luminous elegance to gardens and outdoor areas, thanks to the base that ends with a stake to be planted in the ground.
It also has a stainless steel base, resistant to atmospheric agents and which makes it suitable for any outdoor setting of private homes, contract and events.
Fiaccola Ali Baba is also available in the wireless version, thanks to the Candy Light RGB battery module.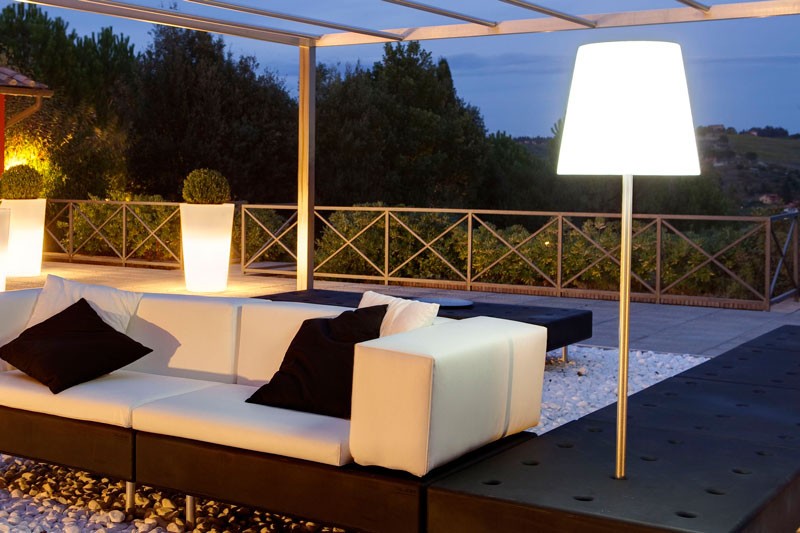 Don't waste any more time, go to our website and choose the right Ali Baba for you!
Written by Alice Pruccoli