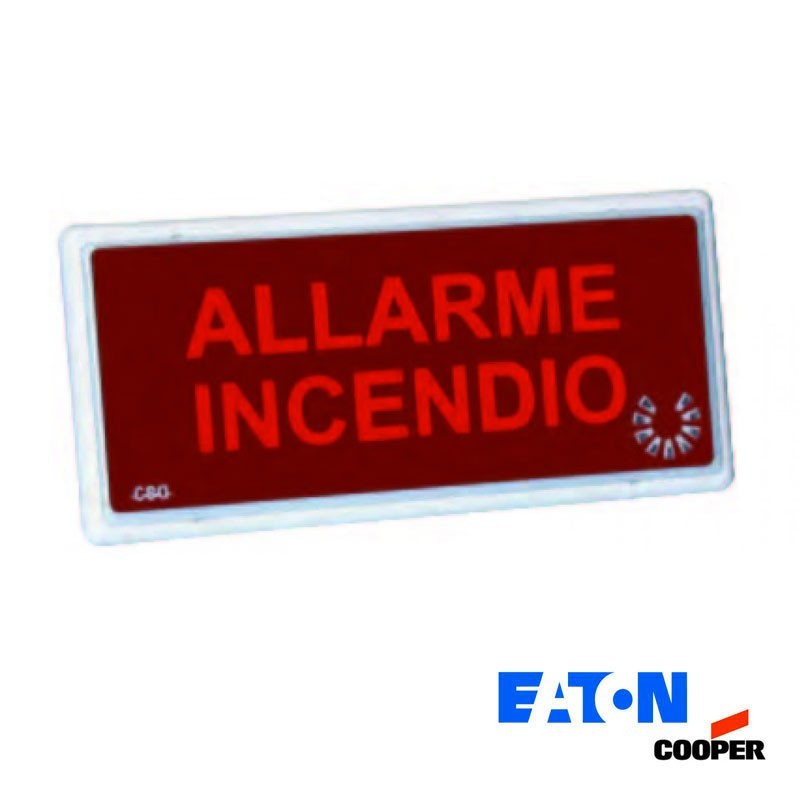  
Cooper-Eaton 5955 LED Acoustic Optical indicator Fire Emergency Lamp IP54
Product Information:
The signaling device 5900 series LX Wall is designed to indicate an alarm state in fire detection systems. It 'available in 3 versions, with optical signaling, acoustic and optical-acoustic. The optical alarm signaling is guaranteed by an ef cient ash bright LED light can cover an area of ​​8.5 x 8.5m to a 4,2m installation height, while the acoustic signal is given to a siren af high power internal with of 88 dB sound pressure at 1m. The device is provided with a pictogram showing the words "FIRE ALARM" LED-backlit light on alarm. The degree of protection IP54 guarantees its use in indoor and outdoor environments, wet and / or dusty. The series 5900 LX Wall complies with requirements of EN54-23 (optical part) and EN54-3 (acoustic set).
8.5m coverage area
Installation height up to 4,2m
Beeper high power
IP54 protection

FEATURES:
Installation category - Wall
Coverage - 8.5 m
installation height - 4.2 m
the volume of coverage code - W-4.2 to 8.5
Covered space - 303mc - 72.5 sq.m.
flash flash frequency - 0.77 Hz
Flash Color - White
acoustic characteristics (only for optical / acoustic model) - Sound pressure 88dB @ 1m - pulsing sound frequency 2160Hz + - 30Hz
Working temp. - 10 ° C + 50 ° C
Degree of protection - IP54
Weight - 0.9 Kg
Housing Material - Thermoplastic self-extinguishing white
Pictogram - Supplied with words "FIRE ALARM"
Please note:
The products are 100% original from the factory. You can easily order your product and choose whether to return it within the next 30 days
Security policy
128 bit SSL certified website
Delivery policy
Fast shipping to any city
Return policy
Free returns up to 30 days
Review
99% of customers are satisfied
Trustpilot verified reviews